Review: Sony Xperia Ion
Zloy Оценка
155
Wed, 23 Nov 22 14:33:20
Sony has finally struck out on its own. The Sony Ericsson partnership is over – Sony bought out Ericsson's slice of the phone-making venture earlier this year – and the first Sony-branded phone is the Xperia Ion, a new Android handset exclusive to AT&T's 4G LTE network.
It goes on sale Sunday priced at $100 with a 2-year contract, much less than flagship devices like the iPhone 4S, the HTC One X and the Samsung Galaxy S III.
The Ion is physically modest, and it runs the outdated Gingerbread version of Android. But it has a nice 12-megapixel camera, a quality screen, and an HDMI-out feature that makes it a fine device for enjoying streaming media when you hook it up to your TV. For only $100, it's not a bad buy, but it feels behind the times when compared to the latest crop of smartphones.
For only $100, it's not a bad buy, but it feels behind the times when compared to the latest crop of smartphones.Just looking at the Xperia Ion tells you it's no thoroughbred. The 0.46-inch thick body feels rather bloated compared to the sleek top-tier phones. With its chunky, flat edges and curved aluminum back, it looks more like a TV remote than a modern smartphone. Unfortunately, the rounded rear results in an unwelcome wobble when you lay the phone down, and it makes typing while the phone is laying on a table near-impossible. The glass touchscreen on the front is accented with four chrome buttons, which are needed to operate the Ion's outdated Android Gingerbread OS. There is also a Sony and an AT&T logo, in chrome, on the front face.
At 4.9-ounces, the Ion isn't heavy, and the aluminum back plate makes the phone feel tougher and sturdier than an all-plastic supermodel like the Galaxy S III. Underneath a plastic door on the phone's left side is a mini-USB port for charging and a mini-HDMI port for connecting to a TV (more on that later). On the right side is a power button, volume rocker and a dedicated camera button.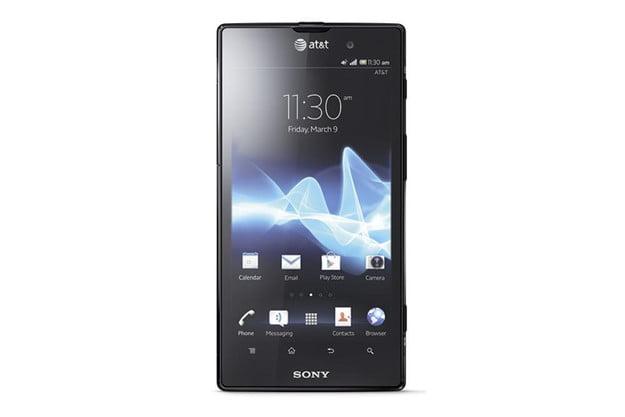 A click of the camera button, even when the phone is locked, brightens up the Ion's 4.6-inch, 1280x720 "HD Reality Display." Ah, now we're getting to the good stuff – hidden beneath the Ion's outdated skin is some competitive hardware.
The camera is a 12-megapixel shooter that snaps impressively detailed photos with the ability to capture a wonderful level of depth of field that rivals the iPhone and HTC's One X and One S. This camera will make plenty of Instagram addicts happy. It isn't perfect by any means – the colors on the photos are noticeably brighter than what's seen in real life – but it's better than most smartphone cameras. The rear camera can shoot up to 1080p video, while the front-facing 1.3-megapixel camera can shoot up to 720p video.
The large, bright display is also better than what's found on most $100 phones, with a pixel density of 342 pixels-per-inch. The screen amps up colors more than I'd like, but the crispness and detail are fantastic. While the display doesn't look better, in my opinion, that those found on the iPhone 4S (which has a 326 pixels-per-inch screen and a 960x640 resolution) or the One X (which sports 316 pixels-per-inch and a 1280×720 resolution), it's damn close to as pretty to look at.
A nifty feature that Sony included in the Ion is the ability to connect to an HDTV via a built-in mini-HDMI port. We've seen these ports on phones before, but while most phones with HDMI capabilities simply mirror what's on the screen, Sony does one better. Plug in the Ion and it launches an attractive horizontal side-scrolling interface along the bottom. Swiping from side to side scrolls through a pared-down selection of apps for watching video, listening to music and reading books.