Nokia Lumia 1020 review
Zloy Оценка
331
Fri, 09 Sep 22 10:46:19
That camera
There's a reason for the aforementioned bulk, and it's a rather good one. Nokia execs can breathe again: the Lumia 1020's camera is fantastic. 41 megapixels sounds ridiculously over-specced, but a few shots in, serious snappers will wonder how they ever survived with fewer. Landscapes are sharper, faces clearer, and buildings and cars have razor-sharp edges. Quality-wise, it's genuinely as good as a powerful compact camera.
Counter-intuitively, shooting in the 5MP setting can sometimes deliver even better results. That's because the Lumia's PureView tech (first seen on a forgettable Symbian handset, the 808 PureView) doesn't just resize the full resolution image. Instead, it combines data from multiple pixels into one 'superpixel' to even out grainy digital noise and record colours more accurately, especially in dim conditions. Not to be confused with 'ultrapixels' on the HTC One, which are just large traditional pixels that capture more light in the first place.
The default camera app is Nokia ProCam, which offers shutter speed, white balance, sensitivity and focus adjustment on pop-up dials, and a bona fide full auto mode. In normal shooting, the app stores photos as a 5MP snap plus a full resolution JPEG version – either 34MP or 38MP, depending on whether you've chosen widescreen or 4:3 image ratio.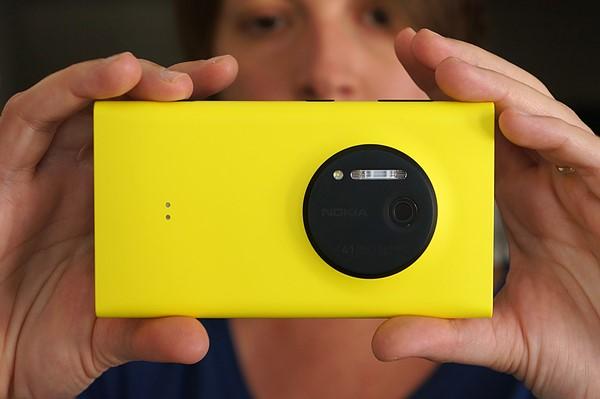 For a whole bunch of full resolution snaps taken during testing, head to our Flickr set.
You can opt to keep just the 5MP, which saves 10MB of storage each time you press the shutter, but it doesn't do much to improve the shot-to-shot time – a sluggish five seconds. And there are other imperfections: annoyingly, if you want the blisteringly fast 5MP burst mode, you have to slowly switch into another app called SmartCam. Actual shutter lag is minimal, but the software-related delay is an issue for such a camera-focused phone.