HP Envy TouchSmart Ultrabook 4 review
Zloy Оценка
144
Sat, 09 Jul 22 09:12:35
It's getting hard to tell HP's thin and light consumer laptops apart: from the upcoming $1,399.99 Envy Spectre XT TouchSmart to the lowly $579.99 Envy Sleekbook 6, they all share extremely similar chassis. Only the quality of the materials and components, the weight and the thickness really differ from device to device. So when I say that this TouchSmart Ultrabook 4 is basically an Envy 4 with a touchscreen, that's actually not very surprising.
If you're not familiar with the Envy 4, though, here's what you should know: it's a decent design for the price, but it's not quite as pretty or durable as it appears on first blush. The whole palmrest and keyboard deck are a thin brushed aluminum, as is the black lid. The bottom is completely covered in soft-touch rubber, which feels nice and adds a bit of grip. Unlike more expensive ultrabook designs, the chassis isn't totally rigid, and parts will give if you squeeze or press down.
When I reviewed the Spectre XT, a more expensive, smaller ultrabook which does have a rigid, durable aluminum frame, I remarked that the glossy black plastic screen bezel and plastic hinge covers stuck out like sore thumbs. The Envy 4 has those same parts, but given how the materials on the Envy 4 generally feel a little bit cheaper, those two don't stick out quite as much. Overall, the effect is handsome but a little bit dull, particularly given how much the silver color evokes comparisons with Apple. The original Envy 4 came in a sleek black with a lovely red soft-touch rubber base, and I miss that color scheme.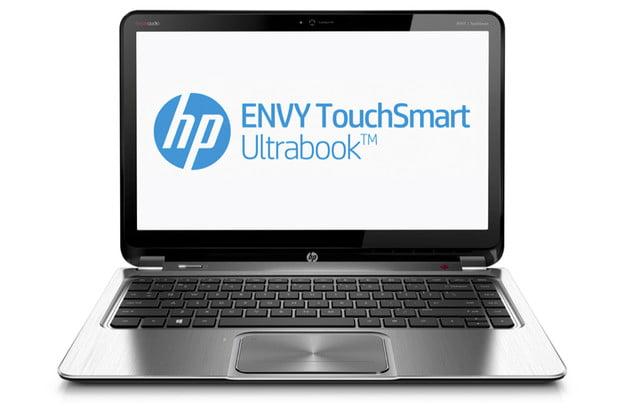 Ports are plentiful for a laptop of this class. There are two USB 3.0 sockets, full-size HDMI and SD card slots, and a spring-loaded, pull-down Ethernet jack on the left. On the right, you'll find a USB 2.0 port, 3.5mm headphone and microphone jacks, the power socket, and a Kensington Lock slot. Like with the Spectre XT, the included power supply's tip doesn't seem to socket as deeply as it should, but it didn't fall out when I shook the laptop, either. Oh, and as you'd expect, there's no optical drive.