Best Gaming Laptop Of 2020 -- Alienware, Razer, Lenovo, And More
Zloy Оценка
146
Tue, 25 Oct 22 11:08:46
Gaming laptops have long felt like a compromise compared to the PC gaming desktops, but that compromise gets smaller every year. For a long time, integrated graphics cards struggled to keep up in terms of speed, and laptop heat could melt a desk if someone played a high-powered game for too long (at least, that's what it felt like). The gaming laptop market is a lot better now; most models don't have those drawbacks and compromises.
When it comes to the display, large desktop monitors are reaching for 4K resolutions and beyond for lovers of the cutting edge, but most laptops don't push past 1920x1080 (or 1080p) as a resolution, as the gains diminish pretty quickly on sub-20-inch screens (putting aside things like refresh rate). GPUs that fit inside a laptop have caught up to this pixel scale nicely and, in most cases, do a comfortable job of delivering 50+ frames per second at very high settings in all but the most demanding games. A number of laptop models also add the ability to boost GPU power using external devices, so you're not confined to the graphics card inside the case and can future-proof yourself to some extent.
However, there are some areas where compromises remain: speakers can struggle to give an impressive sound, and fans can make a lot of noise as they keep the air moving through the limited space inside a laptop chassis. If you're gaming with a headset, both of these issues can be ignored pretty comfortably, but it's something to keep in mind.
Gaming laptops have also gotten a lot thinner in the past three years. Some are still pretty chunky, especially the big 17-inch units, but compared to even just a few years ago, most of our picks have real potential to be nice, daily-use, powerful laptops that can also deliver a great gaming experience.
We've played around with a lot of different models from a variety of manufacturers, and in this guide, you'll find our personal recommendations and a buyer's guide for the best gaming laptops currently available. We focused on the pros and cons of form factor, any unique traits, and used the benchmarking tool found in Assassin's Creed: Odyssey to help us compare the graphical performance of the models we tested--these benchmark numbers give us a rough indication of the average frames-per-second performance on the unit.
If you're looking to upgrade to desktop gaming rig instead, check out our guide on how to build a gaming PC.
Read More: Best gaming desks for your laptop
Quick look: Best Gaming Laptops 2019
Best Gaming Laptop For Portability
Razer Blade Stealth
The GoodThe BadAs thin and light as any nice 'daily grind' laptop out thereNot a dazzling game performer when away from an eGPUBuild quality feels rock solidVery limited storage options
A successor of sorts to the Razer Blade Pro, the Razer Blade Stealth is a sleek, well-built hunk of black aluminum that feels like Apple made an ultra-slim laptop for gamers. But even though the logo on the back and those green-trimmed USB ports send out the signal that this is a Razer product, it's still a nice piece of hardware that doesn't scream "gaming laptop."
The Stealth is a pleasure to type on and use as an everyday piece of working hardware, if a little cramped for larger hands. One of its major shortcomings is the deeply limited 256GB storage that can only be upgraded to 512GB by ordering the absolute top-of-the-line model. With today's comparatively large game install sizes, expect to only ever have a few games installed at a time. But since this is a relatively cheap gaming laptop, it's hard to complain too much.
With its portable-friendly design and backlit keyboard, it's not surprising this lightweight gaming laptop delivers the worst gaming performance of all units tested. The entry-level Stealth only gets built-in graphics and a 1080p screen, while a maxed-out version can have a 4K touchscreen and a GTX 1650 Max-Q GPU. We found it could only run demanding games on low settings at at 720p.
Where the Stealth is at its best, however, is when it's attached to an external GPU at home. Razer has an ideal companion for just that occasion in the Razer Core X Chroma--although its $399 USD / $649 AUD RRP price tag, as well as the cost of a desktop graphics card on top of that, is a hefty investment in itself. However, most Thunderbolt 3 eGPU hubs will provide the same functionality, let you combine the Stealth with a desktop-sized graphics card, external monitor, and other peripherals in order to let the Stealth act as a much more powerful gaming PC as your desktop while at home.
The gaming performance while on the Core X Choma wasn't as good as we would have hoped. There's some bottleneck in the system that means a desktop RTX 2080 Ti card still performed worse than some of the other laptops here. Core X forums suggest there are ways to really dive in and tinker with settings to improve eGPU performance, but don't expect to get the best from a top of the line graphics card right out of the box. That said, the SSD does help speed up loading times, and the 16 GB of RAM is nice to have.
Still, there's something really pleasing about a13-inch ultra-portable laptop with a couple of USB Type-C ports that also happens to deliver plenty of value if you want to play games. And if you decide to invest in an eGPU unit for home, you can get the best of both worlds.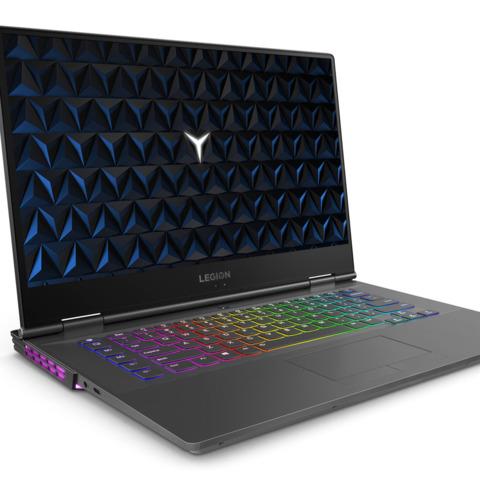 Razer Blade Stealth specs and performance
Version Tested1080p Intel Core i7-8565U (1.8GHz) w/ GeForce MX150 Quad-Core ProcessorScreen Options13.3" 1080p / 13.3" 4KGPU OptionsIntel UHD Graphics / Nvidia Geforce MX150 / Nvidia Geforce GTX 1650 graphics cardWeight3.13lbs / 1.42kgRRP$1,099.99 USD - $1,999.99 USD ($1,999 AUD - $3,699 AUD)X-FactorUltra-lightweight buildAssassin's Creed Odyssey Benchmark Result (Higher Numbers Are Better)Ultra High: 11 (1080p) / 17 (720p) / 38 (Core X w/ RTX 2080 Ti)Very High: 16 (1080p) / 26 (720p) / 41 (Core X) See Razer Blade Stealth at Amazon
Best Designed Gaming Laptop
Alienware m15
The GoodThe BadThe chassis and keyboard tray feel really nice under the handsTrackpad feels small for general purpose usageTobii eye-tracking built in
Premium build means a premium price
Alienware's m15 feels truly first class. Honeycomb patterns are a big feature, and along with looking great, they allegedly offer improved chassis strength and airflow capacity. The black-white styling is also a striking look and the finish feels great under your hands. It feels incredibly well-constructed for use as both a general-purpose laptop and a gaming rig.
A significant inclusion it boasts is Tobii eye-tracking tech. It can dim the screen when you look away and brighten when you return, saving precious battery life. But, it's also got great potential for gaming, allowing eye movements to be used as an input option in games like Elite Dangerous, ARMA III, The Division 2, Assassin's Creed: Odyssey, and most importantly, Euro Truck Simulator 2.
Setting up Tobii seemed a bit fussy, failing in a number of attempts to get it set up. It worked out of the box for screen-dimming and wake-up features, and even then it dimmed during a benchmark test even though we were sitting right there in front of the screen. But the promise of Tobii seems solid for those who have the time to tinker and get it working.
For future-proofing purposes, Alienware also includes the dedicated connector port for its proprietary eGPU unit so you can give the machine a boost while at a desk should that end up feeling necessary, as well as the necessary RAM to make use of that feature.
This system performed very nicely, with its 240Hz screen delivering silky smooth gaming performance. Along with the Asus Strix, these 240Hz screens really showed themselves to sometimes be a better feature than getting a laptop with a better graphics card.
It's hard to fault what Alienware is delivering here. There's no real problems to note, though the touchpad feels a little too small for regular use in day-to-day tasks. However, the speakers sound great, the keyboard feels really nice to use, and if the already nice screen isn't enough as it is, you can now opt for an out-of-this-world OLED model too.
Alienware m15 specs and performance
Version Tested1080p Intel Core i7-9750 (2.6GHz) w/ Nvidia RTX 2080 Max-QScreen Options15.6" 1080p / 15.6" 4KGPU OptionsNvidia GeForce GTX 1660 / GeForce RTX 2070Weight4.78 lbs / 2.16kgRRP$1,399.99 USD - $1,999.99 USD ( $2,999 AUD - $3,674 AUD)X-FactorSlick Design, built-in eye-trackingAssassin's Creed Odyssey Benchmark Result (Higher Numbers Are Better)Ultra High: 43Very High: 47 See Alienware m15 at Amazon
Most Powerful Gaming Laptop
Alienware Area51m
The GoodThe BadIts performance is overwhelmingThe dual power cable design is really annoyingNice, subtle design despite gigantic form factor60Hz refresh rate screen reduces system overall qualityLarge, heavy, and cumbersome--don't expect to carry this far on a regular basis
The Area51m is the biggest machine on the list. It almost feels like a lie to use the phrase 'laptop' to refer to it. Measuring 16x12.5 inches and weighing 8.5 pounds, it feels like more of a desktop you can pack up when required than a budget laptop--toss this in a giant shoulder bag and you're likely to throw your back out.
One annoying surprise is the inclusion of a double power supply. On first unpack, it seemed like there had been a mistake when I saw the 180W brick (the m15 has a 240W) until I realised that it uses two of them to operate. That means two power ports, two power cables, and two power bricks. It's a mess of cables before you even add an external mouse or headset. This is a crazily powerful gaming rig, though, and it ran everything we threw at it without any issues.
The 17-inch monolith isn't trying to be slim or svelte, but does have a few curves that help airflow, while also giving it a touch of style. The lighting design is subtle but pops in the places its been added, including a striking multi-zone light ring around the rear air vents.
Gameplay performance is the best of any laptop tested, with a beefy CPU, GPU, and RAM delivering the goods, and the combination of a 256 GB SSD and 1 TB SSHD mean you won't have to think about uninstalling a game for a while. The option to include an Nvidia Geforce RTX 2060 or 2070 instead of the regular Geforce GTX cards helps, and it also has a very bright screen doing a better job than many of revealing detail in darker areas, but the screen does get more screen tear during fast rotations. We tested the 60Hz model, so we'd really want to buy it with the 144Hz upgrade option.
Its size can be somewhat uncomfortable at times, however--your hand positioning can feel a little awkward as the thick chassis forces you to raise your wrist. But if you're after overwhelming power and your circumstances don't allow you to invest in a desktop PC, the Area51m is exactly what you'd be hoping for.
Alienware Area51m specs and performance
Version TestedIntel Core i7-9700 (3.0GHz) w/ Nvidia RTX 2060Screen Options17.3" 1080p onlyGPU OptionsNvidia Geforce GTX 1660 / RTX 2060 / RTX 2070Weight8.54 lbs / 3.87 KgRRP$1,099.99 USD - $3969.99 USD ($3,999 AUD - $6,799 AUD)X-FactorPower overwhelmingAssassin's Creed Odyssey Benchmark Result (Higher Numbers Are Better)Ultra High: 53Very High: 68 See Alienware Area51m at Dell
Best Gaming Laptop For Security
Asus ROG Strix Scar III
The GoodThe Bad (Or Good, Depending On How You Feel)Best lighting options of all the laptops testedSpecial lock USB is unique but could be your worst nightmareQuick performance management at the touch of a buttonNo webcam240Hz / 3ms screen is gorgeous
Performance is solid, but one simple feature that makes the Asus Rog Strix Scar III really stand out is the dedicated strip of control buttons. Controls for volume and microphone muting are here, as well as a launch button for the Asus ROG controller software. Plus, there's a toggle for instantly shifting the processor configuration between silent, performance, and turbo modes instead of relying on a software solution.
Details like the spacebar having a wider left side and a USB Type-C port speak to a gaming notebook that keeps gamers in mind. This keyboard gives the most comfortable WASD hand positioning for reaching important keys nearby like Shift and Space.
The USB 'Keystone' is this laptop's most unique feature, however--it's an NFC device that adds a physical security component to the laptop, as well as giving you a built-in memory device for quickly sharing data. When removed from the laptop, a defined section of the main system storage is locked down and disappears from view. It's great for the security-minded, but it's easy to see where things can go wrong here.
Strangely, there is no webcam built in--something that seems standard in just about every laptop out there--but if you're somebody that takes their security very seriously, this omission on top of the Keystone feature is definitely a plus.
Gameplay performance felt first-rate (a nice improvement over the Asus Vivobook line), with another 240Hz screen proving itself to be a big win for smooth images on screen even in fast-paced moments. Having used one of these now, I don't want to have to go back to a gaming laptop that has a slower screen.
Asus ROG Strix Scar III specs and performance
Version Tested15.6" Intel Core i7-9750H (2.6GHz) w/ Nvidia RTX 2060Screen Options15.6" 1080p / 17.3" 1080pGPU OptionsNvidia Geforce GTX 1660 / RTX 2060 / RTX 2070Weight6.3lb / 2.86kgRRP$1,649.99 USD - $1,999 USD ($1,999 AUD - $3,199 AUD)X-FactorInteresting security featuresAssassin's Creed Odyssey Benchmark Result (Higher Numbers Are Better)Ultra High: 45Very High: 54 See Asus ROG Strix Scar III at Amazon
Best Gaming Laptop For Comfort
Lenovo Y740
The GoodThe BadGreat keyboard for extensive typingTrackpad feels ancientPowerful speakers
Lenovo's Legion brand keeps pushing forward to catch up to its gaming laptop rivals, and this 17.3-inch system hits an interesting balance between Lenovo's traditional business prowess and being a great gaming-focused machine.
Lenovo has always been one of the best keyboard designers for business laptop users, with large keycaps that curve nicely under the finger. You get that same style here and it's a pleasure to use, though I can imagine some people might not take to the bigger keys.
The flip side, however, is a lackluster trackpad, with two physical buttons where most modern designs extend the trackpad surface all the way to the bottom edge. That said, the power of the speakers here really stood out amongst the rest of our favorites.
Game performance was not far behind the Area51m in terms of raw power, but combined with an NVMe SSD and 144Hz display with G-Sync built-in, the screen delivered jitter-free renders and fast movement using some of the stronger Nvidia cards.
The laptop's design feels bland, if that matters. But it's great if you just want a great gaming laptop that's comfortable to use while also not trying to make a big deal about its gaming credentials.
Lenovo Y740 specs and performance
Version TestedIntel Core i7-8750H (2.2GHz) w/ Nvidia RTX 2070 Max-QScreen Options15.6" 1080p onlyGPU OptionsNvidia Geforce GTX 1660 / RTX 2060 / RTX 2070Weight4.85lb / 2.2kgRRP$1,719.99 USD - $1,999 USD ($2,699 AUD - $3,099 AUD)X-FactorGreat keyboardAssassin's Creed Odyssey Benchmark Result (Higher Numbers Are Better)Ultra High: 50Very High: 59 See Lenovo Y740 at Amazon
Best Gaming Laptop For Value / Full keyboard
Acer Predator Helios 300
The GoodThe BadKeyboard design fits numpadAwkward power cable positioningEfficient management softwareSounds like a jet engineBacklit keyboardBuild quality feels a bit lacking
The Acer Predator Helios 300 is a prime example of what Acer is doing right with its Predator line. It feels a little less tricked out than the likes of the Asus Strix, but obviously more power-hungry than the Acer Aspire line. The keyboard feels a bit rubbery--there's something a little soft about the experience under the fingers. It's not quite a budget gaming laptop, but it's the lowest price point on this list, and it packs some good power for its price.
The biggest feature is the Helios' inclusion of a number pad built in on a 15" laptop. This is a matter of taste, of course--it's a big space and positioning trade-off just to have everything, and most models neglect the numpad to deliver a core tenkeyless design. But, if you like numpads, the Helios feels like it has gotten the scale just right--its inclusion never feels like a compromise in practice.
There are also a few dedicated gaming keys squeezed around the keyboard, including one to launch the PredatorSense management software--and this software is kept quite simple so it's easy to quickly do exactly what you want--lighting customisation, overlocking, etc--with minimal fuss.
The trackpad is probably the worst of the range. It's a full pad--no separate buttons--but the travel on the button press at the bottom of the pad feels way too deep and inaccurate.
Pure performance was really impressive too, with great test numbers and a good feeling overall, especially with a 256GB NVMe SSD in the mix. There is some muddiness in dark areas of games, however, and some tearing in fast-moving renders and screen rotations.
There are few complaints here at all if you want a great budget gaming laptop. If you hit the dedicated 'Turbo' button, get ready to hear the fans do a fantastic impersonation of a jet engine, but for the most part, the system does a good job of keeping itself performing well without needing to spin up the fans all the way.
The power cable's strange positioning in the middle of the side seems standard for Predator laptops, presumably as part of its airflow design, but it's a little awkward and seems like it could fit so much better elsewhere. But if that's the only tradeoff for this impressive system to do what it does well, it's a good sign in a gaming laptop.
Acer Helios 300 specs and performance
Version Tested15.6" Intel Core i7-9750H (2.6GHz) w/ GTX 1660 TiScreen Options15.6" 1080p or 17.3" 1080pGPU OptionsNvidia Geforce GTX 1660Weight5.95 lb (2.7kg)RRP$1,199.99 USD - $1,799.99 USD ($2,132.66 AUD TBC)X-FactorGreat keyboardAssassin's Creed Odyssey Benchmark Result (Higher Numbers Are Better)Ultra High: 42Very High: 46 See Acer Helios 300 at Amazon