Asus Zenbook Prime UX31a
Zloy Оценка
222
Thu, 17 Feb 22 08:44:06
Why you can trust Pocket-lint
(Pocket-lint) - The term Ultrabook has become so loose now that just about everything which isn't made by Apple and is portable has the moniker slapped on it. The problem is that a lot of the kit released just doesn't cut it, with most being far from ultra.
Another real issue is that the Ultrabook is getting so expensive, it matches the MacBook Air in price in many cases. Put yourself up against Apple's ultra thin and you have some serious competition. Until now not much has matched it. Enter the Asus Zenbook Prime UX31a.
So how does it square up? Can that 1080p screen and powerful i7 processor pack enough punch to give it the jump on the rest of the super thin competition? Read on to find out.
Design
Asus nearly always gets it right in the design department. The Nexus 7 is a gorgeous piece of kit for its price, as is the Transformer range of tablets. The Zenbook Prime is no exception, boasting a brushed-aluminium shell complete with Asus's signature concentric circles on top.
It looks great and makes a persuasive alternative to the Apple approach to design. Sure, some might argue that Jonny Ive has it nailed, but give the Zenbook Prime a chance and take a look up close, it certainly is impressive.
Pocket-lint
There is no doubt that the Zenbook Prime is portable. For a laptop just 32.5 x 22.4cm in size and weighing only 1.2Kg, it is easy to forget there is an i7 or i5 inside and plenty of computing grunt. Being so thin does mean you get the sense that your wrists are being slowly sliced into, but this isn't unique to Asus.
Other than that, the design and looks of the UX31a is incredibly well-built. The laptop has a great solid feel to it and is tough enough, thanks to the aluminium shell. We have to say, this is one of the best built Ultrabooks we have used and is plenty premium throughout. The Zenbook Prime also comes with quite a few connectivity options out of the box. An SD card reader, pair of USB 3.0 ports, headphone jack, mini HDMI and mini DVI complete the setup.
Handling
Normally we would put how a laptop handles under the design section of a review, but for the Asus we figured it deserved its own. Why? Because it has a trackpad quite unlike any other.
What started as a minor niggle became a never-ending source of irritation. First, the trackpad is positioned in such a way that when typing we would constantly tap to click by accident. This turned off, we then ran into the issue of two-finger scrolling and pinch to zoom just not being that smooth. The cursor was all over the place and the tacky feel of the trackpad meant our finger never quite slid along it smoothly.
Pocket-lint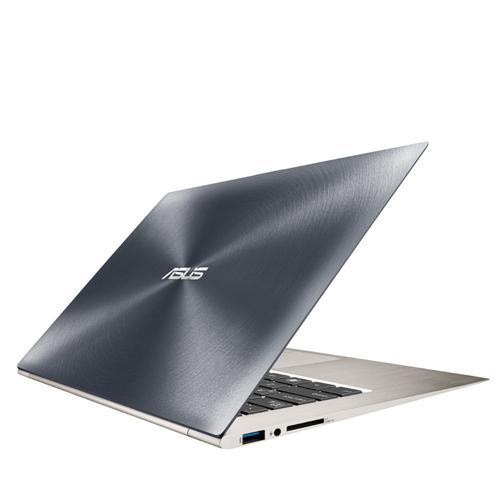 This is a shame, because the keyboard on the Zenbook Prime is great. It is satisfyingly hardy and gives you plenty of feedback when bashing away at the keys. Brightness shortcuts, volume keys and backlighting make it even better.
So in use, the trackpad is a nightmare and the keyboard is a joy to use. This is annoying, because Asus has made similar trackpad mistakes before, on both its previous Zenbook laptops and the Transformer tablets.
Screen
Okay so the real talking point of the Zenbook Prime is its screen. Right now it looks to be the highest resolution screen of any 13-inch laptop. In fact the only real step up from it is the MacBook Pro with Retina Display - which, we might add, doesn't cost that much more.
Pocket-lint
Having used both, we have to say that Asus's offering doesn't lag far behind the Retina Mac. It blows every other 13-inch laptop out the water entirely, however. The IPS display has truly fantastic viewing angles and colour reproduction so natural and smooth that at times it looks more like a sticker on a dummy model than a real screen.
Best laptop 2022: Top budget and premium notebooks for professionals, students and casual users By Max Freeman-Mills · 29 December 2021
The screen is such high resolution in fact that the native icons and text can be a bit too small to negotiate comfortably. We had to rectify this by pushing up the DPI to 150 per cent. Even then text was as crisp as anything.
Performance
The Zenbook Prime that we tested was quite a beast, coming with a 1.9GHz i7-3517U, 4GB of RAM, a 128GB hard drive and Intel HD 4000 integrated graphics. As Ultrabooks go these are pretty class-leading specs - although we'd like to see more RAM - and the Zenbook Prime definitely chugs along at a fair old rate.
Most impressive of all is the Zenbook's "instant on", which is so quick we barely had time to open the thing up before the screen booted from wake. Shame then that once you do get the system running, Asus loads the whole thing up with a load of unnecessary bloatware.
Pocket-lint
You would not believe the number of registration questions and silly widgets that fire up the first time you start the UX31a. It is such a shame and totally detracts from the otherwise entirely slick experience. The packaging looks great, so does the laptop, so why do this to Windows?
The Intel HD 4000 even means you can manage a decent bit of gaming on the UX31a, with things like StarCraft 2 and Diablo III running at medium specs with a fairly decent framerate.
Ivy Bridge also brings a few battery benefits. Things are still a long way off all day long life and the seven hours advertised. Expect five and a half hours of web browsing and similar activity. Leave the thing alone and you will manage more than seven.
Verdict
Quite a laptop then from Asus. We can't think of a much better Ultrabook right now, particularly for those who are after a really top-quality screen. In fact, at £1499 it even makes a viable cheaper alternative to the more expensive MacBook Pro with Retina Display.
Sadly though what prevents this Ultrabook from becoming a true portable great is two things. First is the track pad, which simple needs sorting, and second is the irritating level of bloatware included with the computer.
If you can get round these issues, then there is a very impressive piece of kit here which will definitely turn heads with its looks. We can't help but think that waiting for a sequel might be worth it however, as Asus might finally get the trackpad right.
Writing by Hunter Skipworth. Originally published on 16 April 2013.