Samsung Galaxy Buds2 Wireless Headphones Review (SM‑R177)
Zloy Оценка
277
Sun, 16 Jan 22 10:10:47
Contents of delivery
Specifications
Positioning
Wireless TWS headphones have become a standard accessory and for the first time in Russia exceeded sales of wired ones, this happened in the first half of 2021. The line of TWS headphones from Samsung is diverse, and here are different models in a similar form factor, the differences are in the characteristics that the manufacturer has invested and in the cost step. Among the A-brands, Samsung has excellent value for money, interesting integration of headphones with the Galaxy line, including tablets. At the moment I have the main headphones Buds Pro, this is the flagship of the line.
Mobile-review.com Samsung Galaxy Buds Pro (SM-R190) TWS Noise Canceling Headphone Review
Sound through bone tissue, noise reduction, great sound, but questions about ergonomics - Samsung's flagship TWS headphones
The Buds2 model replaces the Buds+, which have become the most popular model due to the cost and positioning in the Samsung lineup. These headphones now cost 8,990 rubles (a discount of 2,000 rubles from the regular price), in fact, this can be considered a preparation for the release of Buds2. They appear at a price of 10,990 rubles, which, all other things being equal, can be considered an achievement, since Buds + came out a year ago for exactly the same money.
Mobile-review.com Samsung Galaxy Buds+ (SM-R175) wireless headphones review
The most affordable yet serious TWS headphones - record-breaking battery life, two-way speakers, Android/iOS work and more
At the same time, we can safely say that the Buds2 is closer in terms of filling to the Buds Pro, this is a new chassis, a noise reduction system, three microphones on each earbud. Interesting headphones, in which they tried to maintain the same price / quality ratio. Willingly or unwittingly, I will compare these headphones with other models from Samsung, I used each and I know all the shortcomings, as well as advantages.
Saturday coffee #185
Pour a cup of fragrant Saturday coffee and get acquainted with the news of the week. Huawei unveiled a foldable smartphone and a curious watch, Vogue "accidentally" revealed a new realme, Xiaomi teases a new smartphone, and we've rounded up the best products of the year...
Volvo XC90 test. Swedish flagship
Today's our guest Volvo XC90 is the flagship crossover of the Swedish brand Volvo. The model has been produced since 2002, it was then that the first crossover with this name came out, which received an update in 2006 ...
Review of monoblock ASUS Zen 24 (M5401)
Premium all-in-one PC powered by 5th Gen AMD Ryzen processors...
Let's start with the case, it looks like the one we see in the Buds Live and Buds Pro, neat and small rectangle, glossy finish. Please note that the body of the case is always white on the outside, but inside it is painted in the color of the headphones, a trifle, but pleasant.
In total, the headphones are available in four different colors: black, purple, white and olive. The choice of color is, of course, yours, purple or olive is popular this season.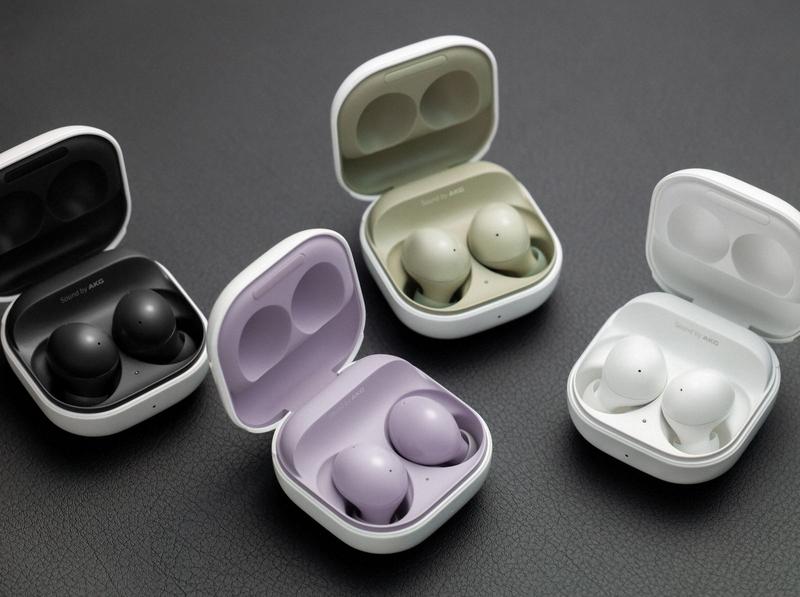 The shape of the headphones resembles the Buds Pro, but a sort of smaller copy.
The case can be opened with one hand, but you can only get the headphones with two hands, which is normal. It is impossible to mix up the headphones when you close the case and put them on the go. The first days all the time it seemed that the headphones would fall out, there was too much space in the case, and they dangled a little. But since there is a mount inside, they hold securely. When the case with the headphones falls, exactly the same thing happens as with all other Buds, the lid opens, the headphones scatter in different directions, they need to be picked up.
You can say that these headphones are good for playing sports, but the problem is that they only have sweat protection - IPX2. Buds Pro have IPX7 protection, which is a completely different matter, they can literally be dropped into water (although you should not do this).
A new option has appeared in the application settings, the headphones check how they are installed in the ear canal, how correctly you inserted them.
The main problem is that people often cannot understand the picture in the application or instructions, do not see their ears, act on a whim. There is also an option that allows you to customize everything - very cool. In this case, you can either insert the headphones deep into the canal, which I don't like so much, or replace the earbuds so that the headphones themselves are fixed in the ear canal. The second method is preferable, do not be lazy.
The fit of the headphones is good, they are light and do not irritate even when worn for a long time (a three-hour call passed without any problems, there was no fatigue, the ears "breathe"). Passive isolation is good, it cuts you off from the outside world, as if you hear it through cotton wool. For those who want to hear what is happening, there is sound transparency, and it can be adjusted in three divisions, at a maximum sound amplification of 9 dB. You just need to remember that there is a signal delay, you hear the sound with a slight delay, but this is not critical. It is not as digital as in previous models, they obviously messed around with the algorithms.
The headphones have voice commands (they can be accessed directly by voice, for example, ask to pause the music). Alas, this feature is implemented only for countries where the Bixby voice assistant works, Russia is not one of them.
Noise reduction is implemented perfectly, it is no different from the same Buds Pro, if there are differences, then they are insignificant. The city becomes inaudible, you can listen to music calmly. One of the best solutions, the same level as AirPods Pro.
Wireless charging fully charges the headphones and case in 2 hours, if you use a wire, it will be exactly the same. The earbuds themselves can be charged up to 100% in 30 minutes. Fast charging is such that in 5-10 minutes you will get several hours of work. And that's great. There is no problem with charging, you will always have a charge, or you can get it by reverse charging from your smartphone.
Talk time is up to 3.5 hours regardless of noise reduction, but listening to music is up to 5 hours with noise reduction, 7.5 hours without it. Pretty much the same results I got.
It's time to talk about the application and setting up headphones. They can work with any smartphone with Android 5 and 1.5 GB of RAM, as well as iPhones running iOS 10 and higher (starting from iPhone 7).
To work with headphones, you need to download the Galaxy Wearable application, in which you can set up headphones, control equalizers. Synchronization occurs almost instantly.
In the "Lab" section, there is an improvement in the settings for games, when the delay becomes minimal, which allows you to comfortably play.
The set of codecs here is typical (AAC, SBS, Samsung Scalable), the sound quality, as I wrote above, is good. For those who like to listen to streaming services (Spotify and the like), these headphones will be, if not perfect, then very good. Ringing sound, clean up, it is possible to stick out the bass. Headphones in terms of sound quality are one of the best in their class, I really liked them for the sound.
Review of the smartphone with a flexible screen Samsung Galaxy Z Flip3 (SM-F711B)
The world's most popular smartphone with a flexible screen is a fashion clamshell for those who remember this form factor.
Huawei Watch 3 Review – An Almost Perfect Smart Watch
Huawei's most advanced smartwatch: maximum image smoothness, eSIM support, body temperature and blood oxygen measurements, Wi-Fi and GPS...
Xiaomi 11T Pro review: instead of buying a flagship
Mid-price smartphone from Xiaomi. The option when you can not overpay for the flagship.
I set up the headphones so that noise reduction works by default, on the left earpiece I call Spotify by holding, on the right I turn on / off noise reduction. Pressing the touchpads does not cause problems, blindly everything is fine.
Now the most important thing, work as a headset, which is the same with Buds Live. Headphones cause genuine delight, this is the best headset for many years. The interlocutor hears you clearly and loudly, even from noisy places. There is no need to raise your voice or shout, often the other person does not even understand what you are saying over the headset. And for those who talk a lot in different places, these headphones will be very good. Therefore, I recommend them not only for listening to music, podcasts, but also for conversations.
Impression
The cost of the headphones is 10,990 rubles, which is very adequate money for a new generation of noise-canceling headphones. We remember AirPods for 25 thousand rubles, cry and think who is wrong here. Compared with AirPods Pro, Buds2 has noticeably better sound quality, music playback, plus noise reduction at the same level. The volume reserve is excellent, the headphones are good for the city, there are no complaints.
Choosing between models from Samsung, I can say that Buds2 automatically kill Buds +, which will disappear from the market. But it's definitely not worth buying this model against the background of the new one, it's better to take Buds2, they noticeably win in terms of sound quality and capabilities. The Buds Live look interesting, they are anatomically better made and do not fit into the ear canal. Minus in noise reduction, it is noticeably worse. Price plus or minus the same at the moment. Finally, for those who are looking for maximum quality, the Buds Pro are worth a look, they are chic headphones, but they are noticeably more expensive. I can't consider AirPods, as this is for those who care about appearance, not quality (and these are the best-selling headphones in Russia).
For those who use several Galaxy devices, there is a quick switch between them, for example, a call comes in, and you can immediately answer it from the headphones (here, by the way, Bluetooth 5.2, simultaneous connection with two devices is supported).
For those who save money, you can look at Chinese manufacturers, but you need to be aware that rarely a low price reflects great opportunities (we are not talking about Apple in this aspect, in comparison with them everything is inexpensive). The same Huawei Freebuds are not bad, the sound is worse than in Galaxy Buds2, but the price is noticeably lower.
In the bottom line, Samsung turned out to be interesting headphones with a good price / quality ratio in their class. We learned how to make good headphones with excellent sound and support this skill, which is already good.
Samsung Galaxy Buds Pro (SM-R190) TWS Noise Canceling Headphones Review
Sound through bone tissue, noise reduction, excellent sound, but questions about ergonomics - Samsung's flagship TWS headphones.
Mobile-review.com Samsung Galaxy Buds+ (SM-R175) wireless headphones review
The most affordable yet serious TWS headphones - record-breaking battery life, two-way speakers, Android/iOS work and more
Mobile-review.com Samsung Galaxy Buds Live (SM-R180) TWS Noise Canceling Headphone Review
Sound through bone tissue, anatomical shape, noise reduction with a twist, new basses and equalizers. Great headphones at a reasonable price
Eldar Murtazineldar@mobile-review.com Twitter Instagram http://mrmurtazin.com/Samsungaudiowireless headphonesreviewTweetShareShareShare up