Denon unveils another 8K capable AV receiver
Zloy Оценка
45
Fri, 13 May 22 10:46:50
Discuss on the forum10.07.2020
Denon unveils another 8K capable AV receiver
Sound United LLC, maker of Denon, Polk Audio, Marantz, Definitive Technology and Classé brand names, has announced the release of another 8K capable AV receiver, the AVR-S960H. This is the first 8K AV receiver in the S range to deliver legendary Denon sound quality and a suite of new technologies to create the modern home theater experience.
Entertainment in 8K
The new Denon AVR-S960H receiver delivers unparalleled levels of picture and sound quality for movies and music. Now it's even easier to dive deep into what's going on in your favorite series.
Stunning picture quality is available with support for the new 8K picture format, delivering video at 8K/60Hz and 4K/120Hz, support for new HDR10+ and Dynamic HDR image enhancement technologies, and a new HDMI feature called Quick Media Switching (QMS), which allows you to instantly switch sources without screen flickering. For exceptional color, clarity and contrast, the new S Series model supports HLG and Dolby Vision technologies, as well as a Pure Color 4:4:4 color scheme.
Nothing makes your favorite movies and games more immersive than surround sound. The AVR-S960H supports Dolby Atmos, DTS:X, DTS Virtual:X surround formats, allowing users to use height or ceiling channels. With 7 channels of 145 watts per channel, the receiver confidently controls loudspeakers even with low impedance and provides a balanced and high-quality sound of the entire system.
Several new features in the receiver are designed for gamers. 4K/120Hz video will make your in-game movements smooth and fast, while Variable Refresh Rate (VRR) will reduce frame lag in simple locations and increase overall game speed. The receiver also supports Auto Low Latency Mode (ALLM) and Quick Frame Transport (QFT), each of which is designed to reduce latency and improve video and audio performance. You will be able to look into the eyes of a virtual enemy before he sees you.
The Denon AVR-S960H can also upscale HD (1920x1080) and 4K (4096x2160) video to 8K (7680x4320) resolution so your big screen TV or projector can display a clearer and more detailed image.
The new AV receiver also supports eARC (Enhanced Audio Return Channel), which transmits high-definition multi-channel audio from your TV to the receiver via an HDMI cable. The TV plays video directly from the Internet in the best picture quality available (4K or 8K), while the receiver determines the best surround format for decoding.
With support for eARC and the latest HDMI 2.1 standard, you can easily connect a satellite or game console, computer or Blu-Ray player to the receiver.
Simple and correct setup with Audyssey software
Since each room has its own acoustic characteristics, Denon uses Audyssey's premium sound calibration technology to achieve the right sound, which automatically accurately measures all system parameters and delivers the best sound quality based on room acoustics. The Audyssey MultEQ Editor app has even more options for professional and advanced users.
Built-in networked HEOS multi-room technology
With built-in network technology, HEOS AVR-S960H can play music from various streaming services, including Spotify, Amazon Music, TuneIn, SoundCloud, TIDAL, and more. With Denon Home wireless speakers or HEOS network-enabled components, you can create a separate zone for every room in your home. Enjoy your favorite music in every room of your home, or choose different music for each room. In addition to HEOS technology, Apple AirPlay 2 and Bluetooth are also supported.
Convenient voice control
The new AV receiver works with Amazon Alexa, Google Assistant and Apple Siri voice control systems. Adjust the volume, skip to the next track, select a sound source - just tell Siri about it.
Roon support and high-resolution audio playback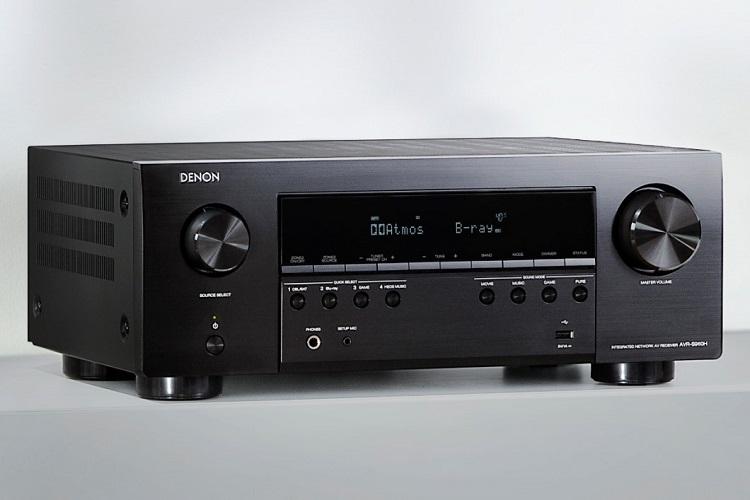 The AVR-S960H is Roon Tested certified, which means users can use Roon's advanced music interface to provide a wealth of information about their favorite artist and their music. Each receiver is equipped with a front panel USB port that provides MP3 audio playback and playback of high-resolution audio files: WAV, FLAC, ALAC and DSD 2.8 / 5.6 MHz files.
Key Features Denon AVR-S960H
Audio and surround sound formats
7 x 145W power and low impedance speaker connectivity Support for surround sound formats: Dolby Atmos, DTS:X, DTS Virtual:X play high-resolution ALAC, FLAC and WAV files up to 24-bit/192 kHz, as well as DSD 2.8 MHz and 5.6 MHz via front USB port or network connection
Video and HDMI
8K: Unprecedented 8K picture quality with upscaling capability4K/120Hz: Incredibly smooth motion in movies and games with 4K/120fps video Variable Refresh Rate (VRR): Reduces or eliminates lag and tearing for smooth, fast HDR10+: Vivid colors and enhanced contrast Dynamic HDR: New dynamic range expansion technology with dynamic metadata for deeper colors Quick Media Switching (QMS): Less latency when changing source Quick Frame Transport (QFT): Reduced latency and smoother Image Changer eARC Support: Enhanced Audio Return Channel supports the latest multi-channel and high-resolution audio formats to send audio directly from the TV to the AV receiver via HDMI cable Color: Supports Pure Color 4:4:4 color scheme, supports HDR10, Dolby Vision, Hybrid Log-Gamma (HLG) and BT.2020 for exceptional vivid and rich color, clarity and contrast HDCP 2.3: Latest copy protection standard on all HDMI ports.
Streaming music and the smart home
Roon Ready: A more user-friendly interface with access to artist and song information Built-in HEOS: Wi-Fi music streaming and multi-room technology with compatible components. HEOS supports free and premium accounts of Spotify, Amazon Music, TuneIn, SoundCloud, TIDAL and more Built-in AirPlay 2: Use AirPlay 2 to wirelessly stream music from your Apple devices to your AV receiver, or group AirPlay-compatible devices to fill your home with music Easy voice control : Supports Amazon Alexa, Google Assistant or Apple Siri for music and receiver control Bluetooth transmitter: Use Bluetooth wireless headphones late at night or when you are hard of hearing. Sound can be heard through speakers and headphones at the same time.
Easy and fast setup
Calibration of the acoustic system, taking into account the acoustic properties of the room. With the included measurement microphone receiver and Audyssey MultEQ calibration software, you can quickly and correctly adjust the sound of your entire system. Two Audyssey settings are stored in memory. The user can save the optimal sound settings for two different speaker configurations. For example, for watching movies in a multi-channel configuration and for listening to music in stereo. Quick Select Buttons: There are four quick select buttons on the front panel and on the remote control that remember custom sound settings for frequently used sources. Applications to control the receiver. In addition to the remote control, you can use applications installed on your smartphone or tablet to control the receiver. The Denon AVR app for basic receiver control, the HEOS app for music and multi-room control, and the professional-grade Audyssey MultEQ Editor app for even more precise and in-depth sound customization.
The Denon AVR-S960H AV receiver will be available from authorized Denon dealers in September 2020.
About BonanzaLearn more about the Denon brandNEXT NEWSNew Q line of soundbars goes on sale in RussiaPrevious NEWSKoss introduces new headphones
leave a comment
NameCommentAll Latest in LatestHome > News > Latest > Denon Announces Another 8K AV Receiver