Than Galaxy S20 is better oneplus 8
Zloy Оценка
279
Sun, 07 Aug 22 13:04:11
This year we have already been shown as many as four flagship smartphones.Huawei, Honor, Samsung and OnePlus pleased us with their new devices.We will not consider the first two now, since they are not very close to our reality due to the lack of Google services.Technically there are no questions to them, but they software pumped up.But the Samsung Galaxy S20 has everything you need: good characteristics, good design and a large flagship price.But which of these smartphones will be better if you start comparing them?Despite the apparent similarity, there is something to compare in them.This is what we will do now.
These smartphones are good, but you need to choose one.
Content
OnePlus 8 or Samsung Galaxy S20
This year, the new items from OnePlus were more likely to be made at a huge price, and not their characteristics, as it was before.This is an no longer affordable flagship, and especially not their killer, since at a price of $ 700 it is simply impossible for them.
As a result, the most logical comparison for him is now a comparison with the top flagships.True, now he will no longer win in all respects.This is already evidenced by the fact that the version of 128 and 256 GB OnePlus 8 and Samsung Galaxy S20 cost approximately +- $ 100.When was this last time?Never.
Maybe if you compare them in other parameters, you get something more interesting and we can choose the best smartphone?Well, let's try.
Iron of a modern phone
Of course, both smartphones have good iron, it is pointless to argue here.But does someone still have better?
Galaxy S20 and OnePlus 8 are equipped with the same processor - Snapdragon 865 with 5G support.Both have large amoled screens with a high update frequency.Everyone has a 4000 mAh battery and supports fast charging and so on.
The most important difference between two phones is the camera.In terms of functionality, they are similar - high resolution, super -wide and software functions.Everything converges, with the exception of one.Many people think that the cell module decides everything, but this is not so.If you install exactly the same sensors in two different smartphones, they will still work in different ways.All because of the software that processes the received images before saving them in memory of the device.The matrix only gives several million colored points that must be collected in one image, that's all.
ONEPLUS 8 camera as always is good.But why do I need a macro lenser, I don't understand.
In the case of two smartphones given by two smartphones, their main cameras are removed approximately the same.It is much more interesting that when choosing a third module, they went completely different ways.
The third ONEPLUS 8 camera is a 2-megapixel macro lens (for a close-up shooting), while the Galaxy S20 offers a 64-megapixel telephoto lens (to increase objects at a distance).However, both of them have their own flaws.Macro-shooting on OnePlus 8 has a very low resolution, while photographs taken using the Samsung Galaxy S20 telephone object, become very muddy after a 10-fold increase.Although, I'm still for an increase than for macro -resistance.In ordinary life, it is used much more often.
It is also worth noting the difference in charging.While the Galaxy S20 is equipped with only a 25-watt charge (more expensive S20 Ultra at the peak reaches 45 watts), it uses the USB-PD standard, so there are many third-party chargers and batteries that work with it.OnePlus 8 can reach 30 watts, but you will be limited by chargers sold by OnePlus.Only the original charging will be able to cope with the filling of the gadget with energy really quickly.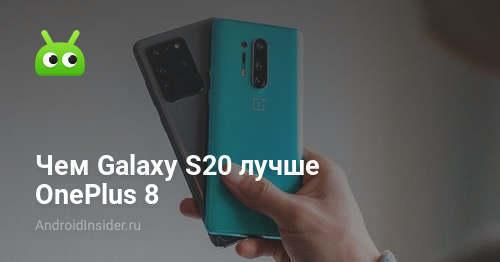 There are several more functions that OnePlus 8 lacks compared to Samsung Galaxy S20.All variants of the Korean smartphone are protected by water according to the IP68 standard, while the OnePlus 8 version for T-Mobile and Verizon have the same rating.In addition, the Galaxy S20 supports wireless charging (as well as reverse wireless charging).OnePlus 8 will not be able to boast of this.Although, once again I remind you, it costs almost the same.
The Samsung Galaxy S20 line has three whole models in the range from 800 to $ 1,400.But everyone has water protection.
5G support smartphone
Let 5G only work in our country only at the test level and it is too early to talk about widespread use, but not discussing it in the context of new smartphones.
Like communication operators, smartphones with 5G are also woven from contradictions.Like other communication standards, the fifth -generation network is a little more complicated than it might seem at first glance.So that the devices work normally in this format, they must correspond to the network parameters.
To try fifth -generation networks, you need to leave for another country.For example, in South Korea.But this is not enough.You still need to buy the appropriate smartphone.They still continue to go out, but we already know what 5G-scartphones are worth waiting in 2020?
In the case of OnePlus 8 and Galaxy S20 there is a difference.The first uses frequencies below 6 GHz, and the second - 6 GHz.As a result, in the United States, smartphones cannot work normally with all operators and you need to choose a smartphone, given this factor.How it will be with us so far it is difficult to say.Therefore, you cannot advise a smartphone for the future.Perhaps we will have something special and they both will not work in our networks.
One UI or Oxygenos
Both smartphones work on Android 10, but each with their own shell.Samsung has one ui, and oneplus has oxygenos.Personally, I like the second option more.All due to the fact that it is not overloaded with its own superstructures.
So that the superstructures in the operating systems do not interfere, they must be disconnected.How to do this can be read in our Telegram chat.
Due to the availability of its versions of applications, the Samsung system is overloaded much more and as a result, this can lead to malfunctions and undercuts.However, given the power of both smartphones, this is unlikely, but complication always leads to less stability.
The OnePlus 8 screen is really not bad, but Samsung is also fine.
Until recently, smartphones cost differently.Samsung was more expensive, but the price was reduced and now it costs $ 799 for the version 12/128 GB.OnePlus offers 256 GB for this money, and a 128 GB version is sold $ 100 cheaper.RAM in all versions of both smartphones 12 GB.
If you think that there should be more RAM, then you are not entirely right.Often you simply overpay for a larger volume without getting any practical benefit.Or am I wrong and RAM is needed more than it seems?
Choosing a smartphone in this case is not at all difficult.You need to look only at the size of the screen and the amount of memory that you want.Want a large screen, then for you OnePlus 8.More memory is needed - he.If you want to buy a device for working in 5G networks for the future, then you need to look at Samsung.
Actually, this is the whole difference.You can hardly notice a different approach to the design of cameras in ordinary life.