Review of the Samsung Galaxy Note 20 Ultra
Zloy Оценка
403
Thu, 06 Jan 22 10:13:38
Specifications Samsung Galaxy Note 20 Ultra
Price: $1299 or $1449 OS: Android 10 with One UI 3.0 Display: 6.9" Super AMOLED WQHD+, 120Hz CPU: Qualcomm Snapdragon 865+ RAM: 12GB LPDDR5 Rear Cameras: 108MP Width (/1 .8); 12 MP telephoto with 5x optical zoom (ƒ / 3.0); 12 MP ultra-wide (ƒ / 2.2) Memory: 128 GB or 512 GB Battery: 10:26 Size: 6.48 x 3.04 x 0.32 inches Weight: 7.33 ounces
The Galaxy Note has traditionally been one of the most powerful Android devices released each year and is aimed at power users who want the best. The Galaxy Note 20 Ultra is no exception this year. Although more experimental form factors like the Galaxy Z Fold 2 or Microsoft's Surface Pro Duo are asking for a higher price, none of them delivering the clean, top-end specs that could match the Galaxy Note 20 Ultra.
From the massive 6.9-inch 120Hz Super AMOLED display to the Snapdragon 865 Plus processor and 108MP camera, there's no shortage of Note 20 Ultra specs on the list. So the question is whether Samsung manages to leverage these specs in a solid user experience. , which guarantees a starting price of $1299?
I've spent the last two weeks testing the Galaxy Note 20 Ultra and I'm here to help you figure out if it should be your next smartphone.
Samsung Galaxy Note 20 Ultra price and specifications
The Galaxy Note 20 Ultra starts at $1,299, and while it's undeniably expensive, it's slightly less than the Galaxy S20 Ultra and Galaxy Z Fold 2, priced at $1,399 and $1,999 respectively. Compared to that, the Note 20 Ultra is very economical.
I reviewed the base model of the Galaxy Note 20 Ultra on Verizon, which includes 128GB of storage and 12GB of RAM, and while it has a microSD slot that supports up to 1TB, if you need more onboard storage, you can upgrade to the 512 model. GB for $1449.
Samsung Galaxy Note 20 Ultra design
While it's not perfect, the overall design of the Galaxy Note 20 Ultra is absolutely beautiful. The Mystic Bronze may seem a bit ostentatious in taste, but there's no doubt that it's a statement. If you'd prefer something more subdued, the phone is also available. in Mystic Black and Mystic White.
With smoothly curved display edges, perfectly rounded edges, and a metal back, the Note 20 Ultra offers a sophisticated look. It goes beyond the rounded rectangles we're used to on most traditional smartphones and arguably outperforms Apple in its upcoming iPhone 12 design overhaul.
As nice as I find this waterfall display to be, I don't like it in terms of usability. It sometimes irritates touch targets at the edges of the screen and catches accidental taps or swipes if I'm not careful with hand position. I suspect I'll get used to it over time, but if you're not using a device with a waterfall display, be prepared for a little growth issues right from the start.
Turning to the back of the device, I ran into one of the biggest issues with the Ultra's design, the massive camera bump. I'll talk about the quality of these lenses later in the review, but the extent to which they protrude from the back of the phone is problematic. Placement along the edge of the phone exacerbates the situation, since it is impossible to put it on the surface and use it.
The obvious answer is to simply add a case, but that of course obscures the standout design. While Samsung couldn't make the Note 20 Ultra thick enough to eliminate the camera bump, it could have added a bit more thickness to its 0.3-inch bezel to reduce it, or center the ledge to avoid wobbling.
The Galaxy Note 20 Ultra measures 6.5 x 3 x 0.3 inches and weighs 7.3 ounces. Sure, it's a big device, but it's slightly shorter and thinner than the Galaxy S20 Ultra , making it easier to manage despite identical display dimensions 6.9 inches.
The matte surface of the Note 20 Ultra avoids fingerprints on glossier smartphones. Even after a couple of weeks on the phone, it showed next to nothing.
The Galaxy Note 20 Ultra is a great smartphone that compares favorably with most traditional devices, but I can't imagine wearing it daily without a case.
Samsung Galaxy Note 20 ports
Like most modern smartphones, the Galaxy Note 20 Ultra doesn't have many ports. However, you get more than just standard USB Type-C. Your bonus port is a microSD slot, accessible via the SIM card tray. This will let you increase your own 128 GB or 512 GB of memory to 1 TB.
Display Samsung Galaxy Note 20 Ultra
The vibrant 6.9-inch Super AMOLED display on the Galaxy Note 20 Ultra is one of the best on the market thanks to WQHD+ (3088 x 1440 pixels) resolution and a new 120Hz dynamic refresh rate.
This last part is very important. Like the panels in the Galaxy S20 line, the Note 20's 120Hz display provides smooth animation and great scrolling. On the Galaxy S20, you had to manually switch the screen between 60Hz and 120Hz if you wanted to use full resolution ( 120Hz limited to 1080p) or the more economical 60Hz mode. In the new adaptive mode, the phone automatically switches based on content. So you only get 120Hz for relevant content and 60Hz for just about everything else. However, if you're browsing static content , the speed may drop even more.
The combination of a 120Hz refresh rate and a 240Hz touch screen sampling rate makes the Note 20 Ultra fantastically responsive. There is no noticeable lag in the user interface as you move from screen to screen, and if you enjoy gaming on your smartphone, there is no doubt that this is one of the best options.
Not all games support 120Hz, but there are over 200 and the list is growing faster as Samsung brought them to the mass market. I've tested it on several games including Mortal Kombat, Dead Trigger 2, 1945 Air Force and Alto's Odyssey. Smooth operation never fell and picks up all these games, regardless of genre or art style.
Watching video content is also a pleasure on the Ultra, thanks to the high-resolution 6.9-inch display and HDR support. I watched the 1080p HDR trailer for Dune, and the dark visuals remained easy to parse, especially the deep blacks of Paul Atreides' suit.
As with the Microsoft Surface Duo, the Ultra offers a couple of display options: Vibrant and Natural. This will be a matter of personal preference, but in our testing, Vivid mode delivered 201% of the sRGB color gamut, while Natural delivered 122%. At 139% on average for smartphones, it outperforms the iPhone 11 Pro Max (119%) and is just slightly behind the Galaxy Z Fold 2 (206%) in terms of brightness.
Feel free to use the Ultra in direct sunlight, as we've fixed its average brightness at 663 nits. It's not as bright as the iPhone 11 Pro (752 nits), but is among the top contenders nonetheless.
Overall, I can't say enough positive things about the Ultra's display. It makes the most of any content on the screen and performs well in almost any viewing environment.
Samsung Galaxy Note 20 Ultra S Pen
I have to be honest and say that although I have had several Notes over the years, I have never been an avid S Pen user in part because my handwriting is terrible. However, I know plenty of users who trust them completely. For these folks, Samsung has stepped up its game with the S Pen in recent years, adding nice features like a reduced response time of 9 milliseconds.
This last element is particularly noteworthy as it differs from the 42ms response time on the previous S Pen, which gives the difference between day and night. Like the 120Hz display refresh rate, not only does it provide a smoother experience, but it also gives more a strong sense of direct interaction with the device.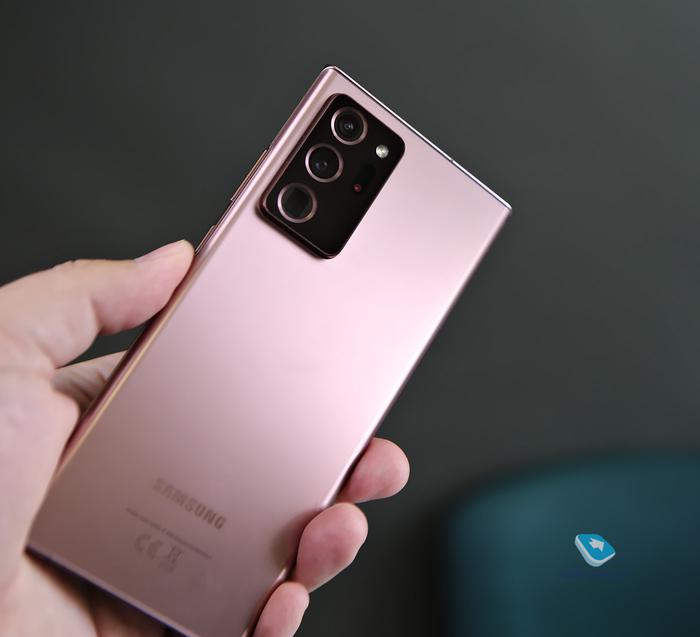 In recent years, the S Pen and related software have used some tricks. For example, Air Gestures, which allow you to move around your device by waving the S Pen in the air, have legitimate uses this time around. The easiest is to use it as a remote trigger for your camera, take pictures or switch between front and rear cameras without touching your phone.
Digging deeper, there's a feature in the Samsung Notes app that makes the Ultra potentially the perfect note-taking device. You can now embed a voice note in your handwritten notes and it will highlight what you've written when the voice note is played. So if you missed something or, in my case, you cannot understand what you wrote, just go back to this place in your notes to find out what was said.
As I said at the outset, I'm not the perfect candidate for the ink component of the S Pen, but even if that's the case for you, a stylus can be a useful accessory without even taking any notes with it.
Samsung Galaxy Note 20 Ultra audio
While it's natural for any smartphone to have limitations, for its size, the Ultra's bottom speakers can get quite loud. and Dolby Atmos for gaming software can be used to boost the sound in addition to the built-in equalizer settings.
The directional sound of the speakers made me aware of the zombie invasion in Dead Trigger 2 before they got too close to attack. And when I played Alta's Odyssey, the subtle sound of the board sliding on the sand was not overpowered by the atmospheric background music.
When listening to Future Islands' Moonlight, the Note 20 Ultra's speakers were well-suited for thin bass and soft instruments, while maintaining the clarity and clarity of layered vocals. While the sound is better than average, you're still better off with a good pair of wireless headphones.
Samsung Galaxy Note 20 Performance
Those who handed over the Galaxy S20 lineup earlier this year to wait for the refreshed Note will be rewarded with Qualcomm's latest and greatest: the Snapdragon 865+. While this is not a quantum leap compared to the Snapdragon 865 processor found in the Galaxy S20, according to Qualcomm, it delivers a 10% improvement in graphics and clock speed. It is undoubtedly the pinnacle of Android chipsets at the moment.
With 12GB of RAM, the Galaxy Note 20 Ultra has plenty of storage available to run dozens of Google Chrome tabs while streaming Netflix shows in picture-in-picture without stuttering. As mentioned before, gaming on the Ultra is great even for gaming , which do not support 120Hz. For example, PUBG Mobile plays flawlessly even at the highest settings.
Looking at our benchmarks for further support, the Note 20 Ultra scored one of the highest Geekbench 5 multi-core scores we've seen at 3294. But it was just behind the gaming-focused Asus ROG Phone 3 (3393) and the iPhone 11 Pro. with A13 (3500) processor.
GFXBench 5.0 specifically considers graphics performance. Ultra showed a result of 1455 frames on the Aztec ruins outside the high-level screen; This is a good result, but not enough to overtake the iPhone 11 Pro with 1657 frames.
On our Adobe Premiere Rush Ultra video editing test, it took 1 minute and 16 seconds for the task at hand to render. The iPhone 11 Pro finished its job in 0:45.
Like the Galaxy S20 line, the Ultra supports both mmWave and sub-6GHz 5G. While networks are still somewhat limited, you are covering everything as 5G continues to become more mainstream across the country.
Samsung Galaxy Note 20 Battery Life
The Galaxy Note 20 Ultra is losing the title of the largest battery in a Galaxy smartphone this year to the Galaxy S20 Ultra. However, it still packs a solid 4,500 mAh that keeps me going through the day with ease.
A typical day of use during my review period includes about an hour of Netflix, 3-4 hours of YouTube Music (my typical companions are movie music), 30 minutes to an hour of Xbox Game Pass and a mixture of Twitter, general web surfing, Slack and email, which is probably 1.5 hours of use. On most days, I'll have about 15% to 20% battery left by the time I put my phone back on the wireless charger at around 10:00 pm.
Our lab test yielded a similar result. The Ultra lasted 10 hours and 27 minutes on our battery test, which consists of continuous web surfing over Verizon's 5G network at 150 nits at 60Hz. However, times dropped noticeably when we switched to 120Hz. since the phone worked for only 7:59.
The Galaxy S20 Ultra and iPhone 11 Pro Max lasted longer at 11:58 and 11:54 respectively.
When it's finally time to charge the Ultra, the bundled 25-watt charger can charge you 30% in just 15 minutes and fully charge you up to 56% in half an hour.
Samsung Galaxy Note 20 cameras
With that huge collection of lenses on the back, hopefully the Ultra will at least take good photos. For the most part, I found this to be true, but there are some odd exceptions.
The Galaxy Note 20 Ultra is equipped with three lenses, the main lens is 108MP, f / 1.8 - wide angle. There is also a pair of 12 MP lenses for ultra-wide (/2.2) and telephoto (/3.0). A new laser focus was also introduced to fix some focus issues experienced by Galaxy S20 users.
Switching between the three lenses is done by clicking on the respective icons on the right side of the camera app, which gives you 0.5x, 1x, and 5x zoom. After you click on any of them (or if you hold and move up or down), you can step through the zoom steps up to a whopping 50x zoom.
Here's a gallery of what that zoom range actually looks like. At 20x, things start to get a lot worse. Samsung wisely didn't go for the 100x zoom that the Galaxy S20 Ultra has, but even the 50x zoom presented here, basically just a novelty. If you want to create an image that can be shared, you probably need to stay within 10x zoom range, which is still astounding for a smartphone.
Galaxy Note 20 Ultra with 50x zoom
Massive zoom isn't the only thing the Note 20 Ultra has up its sleeve. If you decide to take a full 108MP image, you'll lose the optical zoom option, as it has to use that wide-angle main lens. However, you can easily crop and scale everything those pixels. So if you're not 100% sure what part of the scene you want to shoot, this will keep your options wide open (no pun intended).
Samsung still sometimes overdoes it with color saturation. In this example, the petals of this flower are quite pink, but not the same as the Ultra. I had problems with blurring the edges of images when using anything other than 5x optical zoom. This different from software and the natural bokeh you get in portrait images.
While not quite what you get with the Pixel 4 or iPhone 11 Pro Max, the bokeh produced in Samsung portrait shots is pretty good. My gripe with it is that it tends to apply too much smoothing and sometimes blur. face. This is not always a problem, but in more complex lighting situations it can be a problem.
Speaking of lighting, Ultra's night mode can't match the best from Google and Apple. However, it's a lot closer than previous Galaxy Note generations. without resorting to flash.
Video is one area where Samsung has really improved its footing this year. Now only Apple retains the lead over Ultra, which can capture video up to 8K at 24fps or 4K at up to 60fps and 1080p with 120 fps for stunning slow motion playback. Pro Video mode gives you more control over your video capture with detailed control over zoom speed, focus, white balance, exposure, and more. external microphones or headphones such as the Galaxy Buds Live .
Samsung Galaxy Note 20 Ultra Software and Warranty
The Galaxy Note 20 Ultra is currently running Android 10 with Samsung One UI version 2.5. Updates for One UI version 3.0 as well as Android 11 are in the works. We just don't have a specific timeline yet. Although Samsung hasn't always released Android updates in a timely manner , the company recently released security updates and committed to updating the Galaxy Note 20 Ultra to Android 13.
Samsung provides several unique software features with its smartphones, including DeX, which is essentially a desktop interface that you can launch from your Galaxy Note 20 Ultra. It's now completely wireless if you have a TV with Miracast (unfortunately, I don't). The basic idea is that you cast your smartphone's screen to a TV and can navigate the operating system using the Note 20 Ultra's screen as a touchpad.
Кроме того, линейка Galaxy имеет более надежную интеграцию с Windows 10, чем большинство устройств Android.Вместо того, чтобы требовать приложение Your Phone Companion на Ultra, вы просто опускаете панель быстрых настроек и нажимаете Link to Windows, чтобы начать работу.После подключения компьютера у вас будут все функции, которые есть на других телефонах Android в Windows 10, такие как фотогалерея, звонки и текстовые сообщения.Вы также можете транслировать экран Android прямо на компьютер с Windows 10, что означает, что вы можете оставить свой телефон подключенным и управлять всем со своего ноутбука.
На Galaxy Note 20 Ultra предоставляется ограниченная гарантия сроком на один год.Ознакомьтесь с нашими отчетами о лучших и худших брендах, а также с отчетами службы технической поддержки, чтобы узнать, как обстоят дела у Samsung в этом году.
bottom line
Galaxy Note 20 Ultra не идеален, но, несомненно, является одним из лучших смартфонов 2020 года и обеспечивает надежную работу практически во всех сферах.Несмотря на мои незначительные придирки, Ultra имеет одну из самых универсальных настроек камеры и может создавать фотографии и видео, которыми вы с удовольствием поделитесь.
Такие функции, как дисплей с частотой 120 Гц, просто фантастические, а с адаптивным режимом вы можете наслаждаться им на Note 20 Ultra, не снижая времени автономной работы, что является именно тем усовершенствованием, которого ждали поклонники Note.
В этом году все еще будет выпущено несколько высококлассных устройств, таких как iPhone 12 и Pixel 5 , но Note 20 Ultra устанавливает для них высокую планку, которую они должны попытаться преодолеть.