Microsoft officially introduced Windows 11
Zloy Оценка
160
Wed, 13 Apr 22 10:20:16
We recommend reading:
Linux for the hacker
Yesterday, June 24, 2021, Microsoft officially announced Windows 11 and demonstrated the new OS to the public.
Let me remind you that the pre-build was leaked to the network last week, so we have already talked about some new features, as well as changes in the design and interface of the OS, so today we will focus on other aspects of the new OS.
Upgrading to Windows 11 will be free for Windows 10 users and will be offered by Windows Update when the new OS becomes available.
Windows development is planned to be divided into two branches: the Windows 10 branch for enterprises that do not want to rush to the transition to a new OS, as well as Windows 11 for ordinary users. However, Microsoft will continue to develop Windows 10 and release build 19044 in the fall (probably with cumulative updates that will gradually get used to Windows 11).
System requirements
Microsoft has released the minimum system requirements for installing Windows 11, and they have already frustrated many, as they are higher than the requirements for Windows 10. In particular, the difficulty lies in the fact that Windows 11 needs a TPM 2.0 module, UEFI support, and security features. booting the Secure Boot system.
Processor At least two cores clocked at least 1 gigahertz (GHz) on a compatible 64-bit processor or System on a Chip (SoC) 4 gigabytes (GB) RAM Memory: 64 GB storage device or more System Firmware: UEFI, with Secure Boot supportTPM: Trusted Platform Module (TPM) version 2.0 Display adapter DirectX 12 or later compatible with WDDM 2.0 driver First use of Windows 11 Home edition requires an internet connection and a Microsoft account.
Turning off a Windows 11 device in S mode also requires an internet connection. You can find detailed information on S-Mode here.
All editions of Windows 11 require Internet access to perform updates and to download and use some features.
Also, some features of Windows 11 have additional requirements in addition to those listed above. Here are some additional details about the requirements for key features to work:
The lists of processors compatible with Windows 11 have already been published: Intel, AMD and Qualcomm. The lists do not include the Skylake and Kaby Lake families (6th and 7th generation Core processors), as well as older Intel and AMD Ryzen chips of the first generation (architecture Zen).
You can now check your machine for compatibility with Windows 11 using the special PC Health Check application. Unfortunately, the application does not tell you exactly which system requirements do not meet the minimum if a refusal is received.
You can check whether UEFI is used on the machine, and whether Secure Boot is enabled, even easier: using Win + R and the msinfo32 command. The fact is that UEFI may not be activated in the settings, as well as secure boot. To install Windows 11, they will have to be enabled.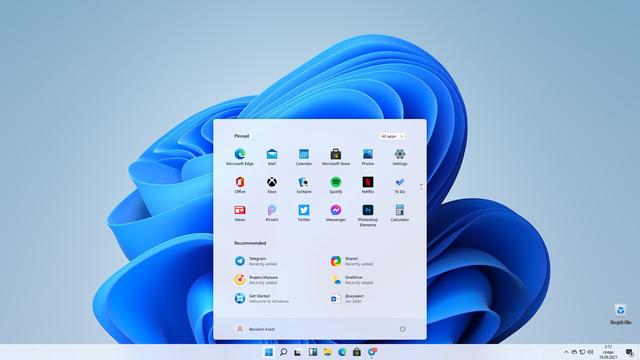 As for the TPM, it is a cryptographic processor to perform encryption operations. It contains several physical security mechanisms to prevent hacking. You can check the presence and version of TPM using Win + R by writing the tpm.msc command.
While TPM 2.0 was initially reported as being required, it has already become known that it is desirable but not required. It will be possible to install Windows 11 with TPM 1.2.
But, unfortunately, even the most modern computers can have problems with TPM, and the use of TPM hardware modules in Russia is completely regulated by the FSB. While it's unclear whether Windows 11 specifically requires a hardware module, it's worth saying that such a module can be purchased separately or emulated in software. Many processors are capable of emulating TPM, you just have to find and enable it in the UEFI settings (the function may appear under the names TPM, TPM Device, Trusted Platform Module, Security Chip, fTPM, PTT).
Android Applications
Android apps will appear in Windows 11 and will run just like any other installed apps. In a presentation to showcase this feature, Microsoft launched the TikTok app for Android right from the Start menu.
Microsoft has reportedly partnered with the Amazon Appstore to quickly provide Windows 11 users with a large selection of Android apps, including games and a wide range of utilities.
Microsoft plans to add this feature to Windows 11 in late 2021 and will likely be available in Windows Insider preview builds for testing.
Little is known about exactly how Microsoft will support Android in the Windows subsystem, but the company says it is working with Intel to use the Intel Bridge Technology feature to do this. Moreover, this technology is not limited to Intel processors and will be supported by AMD processors.
"Intel Bridge Technology is a run-time postcompiler that allows applications that are not compiled to run on x86-based devices, such as Android mobile apps, to run on those devices. Intel considers it important to provide this capability and has developed the Intel Bridge technology to support all x86 platforms.
Intel said the technology will support 8th generation and newer Intel Core processors, as well as Intel Pentium and Intel Celeron (Apollo Lake) processors. The company confirmed that Intel Bridge will also be supported by AMD chips and Arm processors.
Opting out of Internet Explorer and other applications
Microsoft engineers have already listed features and applications that will be removed when moving to a new operating system. In particular, Internet Explorer will be disabled, as Microsoft Edge now has IE Mode, which can be useful in certain scenarios (for example, when working with legacy sites and applications). As a reminder, back in May, Microsoft announced that support for Internet Explorer for certain versions of Windows 10 would end on June 15, 2022.
The following will also be deprecated or removed:
In addition, the following apps will not be removed by the upgrade, but will no longer be installed on new devices or a clean install of Windows 11. They can be downloaded separately: