LG G Flex 2 review: Is curved the new cool?
Zloy Оценка
157
Thu, 14 Jul 22 09:47:17
Why you can trust Pocket-lint
(Pocket-lint) - The G Flex is back and better than before as LG has another crack at the curved smartphone format.
That's perhaps no surprise, as the company is pushing the curved message in television too. The justification remains more or less the same: that viewing is more immersive on a curved display.
The original had a whiff of gimmick about it, but after extended use we concluded that we rather liked it. The G Flex 2 fixes some of our earlier moans: it's more practically sized and stuffed with new hardware too. There's no denying that it's unique, but is a curved handset something that you really need?
LG bends it like Beckham
Let's get straight into the curved argument: whether you buy into the immersive viewing experience or not will be down to personal preference.
Motorola's new Moto G9 Plus is a stunner of a phone - find out why, right here By Pocket-lint Promotion · 28 December 2021
LG says that the G Flex 2 isn't one curve, it's three. The curve of the display surface matches that of the company's televisions - like the 55-inch OLED TV we recently reviewed - while the curved back is slightly different, designed for the hand, as is the curve of the centre line detailing.
Pocket-lint
The theory is that viewing a phone from 30cm away is the same as viewing a 55-inch TV from 3m away. The difference is that one is a home cinema experience, the other is flipped into portrait orientation for emails, stuffed into your pocket, tilted to play games and a lot else besides.
Taking calls on the G Flex 2 is lovely, because of the way that the phone fits to your face, but we didn't have a problem with that before, so that's not a justification for the curve within itself.
Calls made and received on the phone are good, but having the microphone closer to the mouth doesn't seem to make a huge difference - even if you can control the level of background noise-cancellation and HD Voice quality from within the settings.
Pocket-lint
The thing we like about a curved display - and this was true of the original G Flex - is that the top is slightly closer to you when holding it in portrait. Scrolling through apps like Twitter or Gmail is lovely, as the top of the list feels slightly better placed for viewing, things can scroll into your eyeline, and we rather like the effect.
One thing is clear though: it's distinct, it's unique, it's something a little different - so why not go for a curved model?
Display
The LG G Flex 2 has a 5.5-inch curved display. It's P-OLED, meaning plastic OLED, so the flexibility comes from it being fixed to a plastic substrate rather than glass like a conventional flat display. It's then topped with a version of Gorilla Glass 3 specially treated to enhance the durability and allow the flex.
The resolution has been increased over the original G Flex to 1920 x 1080 pixels, resulting in a 400ppi density. That's a win-win over the previous generation of curved phone, now in a more manageable size and with a more impressive resolution. It might be lower in resolution than devices like the LG G3, but that's not a huge issue here.
Pocket-lint
The problem, however, is how that OLED display behaves. On the plus side it exhibits great contrast and some deep black levels typical of OLED, plus there are a range of vibrancy options - so you can have more punch to colours using Vivid mode which looks great at full brightness.
But things get a little grainy when this display dims, especially noticeable towards the ends. At full brightness you don't notice it, but flick on the auto brightness and you'll find, for example, the solid red banner of the Gmail app is grainy and there's a noticeable haze when scrolling through Google Play.
We also found this to grain more prominent when watching TV or movies. Sat next to the LG G3 watching Bosch on Amazon Instant Video, the G Flex 2 shows better contrast as you'd expect in OLED vs LCD, but it is also grainer, so the viewing experience just isn't as good. This has nothing to do with the difference in resolution, and it's something we've seen before on AMOLED displays in the past.
Pocket-lint
We also found that the LG G Flex 2 display had a slight discolouration, being more green-yellow on the right side. We've seen several alternative handsets and showed all sorts of people. You might not notice it, but certainly take the time to look. If you can't see it, you probably won't worry about that on your device, but if you can then it's a whole other story.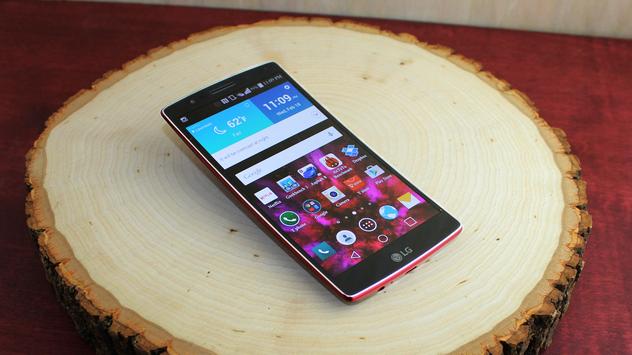 All those bumps in the road put aside, we found the G Flex 2's viewing angles to be good and the brightness to be reasonable. Not as bright as the LG G3's IPS panel, but able to cope well enough with sunny conditions.
READ: LG G Flex 2 vs LG G4: What's the difference?
Build quality
LG has stuck with established design on the G Flex 2, so it's very much like the G3, with rear controls and a similar rear plastic casing. This time there's a spun metallic effect and we really like the crimson colour of the SK Telecom device we have for review - unfortunately this colour isn't coming to the UK, but the silver version that will land in Blighty is equally attractive.
It's coated with LG's self-healing finish, meaning that minor surface scratches flatten themselves out to preserve the look. Needless to say, if it's a deep scratch, it doesn't vanish and we've deeply scratched ours, so perhaps the Circle Case is necessary for protection after all.
Pocket-lint
Despite the rear cover being thin plastic, and as we found with the G3, that's not a problem - the G Flex 2 feels well built overall. It isn't the luscious metal of the iPhone 6 or HTC One, but it doesn't feel cheap either. It's removable so you can access the internals (but not the battery) and it fits nice and tight without unsightly seams to the edges.
As the name might suggest, there is some flex to the G Flex 2. That's by design to stop it breaking and means you can push it flat, which it does without creaking, leaving a good quality feel to proceedings.
At its thickest part the phone measures 9.4mm thick, but that's kind of irrelevant as this is a curved handset, so the centre-to-outer-curve distance is more significant. The 149.1 x 75.3 front panel (imagine it flat) is a little longer than the LG G3, but smaller than the original G Flex was by a notable amount (160.5 x 81.6mm) which for a 5.5-inch panel device makes it easy enough to use one-handed. It weighs 152g and the curve of the back means it settles down nicely in the hand.
Next-gen internals, performance pro
One of the highlights of the G Flex 2's announcement is the 2.0GHz octo-core Qualcomm Snapdragon 810 chipset onboard. That makes it the first handset to arrive with the next-gen hardware, but that's about to change with a range of rival devices soon to appear.
The 810 is 64-bit, so works in tandem with Android 5.0 Lollipop's 64-bit support. There's 2GB of RAM resulting in a phone that's speedy and capable. There's also Cat 6 LTE for super-fast 4G, all the connectivity you'd expect, including Bluetooth with apt-X, and DLNA. There's now also a microSD card slot for storage expansion to add to the 16GB or 32GB of internal storage.
Pocket-lint
With these modern internals you'd expect blistering performance. Ask a benchmarking app to churn out results and that's what you'll get. However, the real-world performance is more than just a number: the phone is swift in everyday operation and we found that heavy apps loaded and ran mostly smoothly.
However, we did find that Real Racing 3, one of our favourites, would sometimes inexplicably stutter. Or we'd find that Chrome would freeze. We suspect that these are software issues, rather than anything to do specifically with the hardware, and something that will be ironed out over time.
We wouldn't say that those issues were anything more than a minor irritation, but if you're expecting the G Flex 2 to be leaps and bounds ahead of a device like the G3 or HTC One thanks to the new hardware then, at the moment at least, it doesn't feel like it is. Benchmarks might tell you it is, but in the real world, it doesn't feel wildly different.
Sound is handled by a single rear speaker that's rather average in performance, lacking the delivery of the HTC One, Xperia X3 or Moto X, so it's best to enjoy your audio with headphones on.
Software quirks
When we reviewed the LG G3 - a phone that we think is very good - one of our criticisms was some of the software design choices. Some of that is still present in the LG G Flex 2, which comes with Android 5.0 Lollipop from the getgo.
The handset we had for review was an SK Telecom device direct from Korea, and had a fair amount of network bloatware that won't appear on devices in Europe, UK or the US. We removed as much as we could to eliminate it from the software picture.
Pocket-lint
The G Flex 2's user interface is very much like the LG G3, so it's a familiar environment to LG users. The general animation around the user interface sticks to Lollipop's method of opening and closing from the bottom, which we like.
READ: Android Lollipop tips and tricks
However, LG's handling of Lollipop seems to be a little firm. Although most of the new features are preserved, like notifications and the Rolodex style recent apps view, LG has stuck to the previous quick settings arrangement, needing a horizontal scroll to get to those hardware toggles. It's a little less convenient in some areas, though, with the Wi-Fi settings needing an additional touch to access compared to stock Android.
LG has also introduced a new Glance Screen function. This will let you peep at essential information with a swipe down from the top of the standby screen. It then reveals the top bar, so you can see your connection, notification icons, time and so on.
Pocket-lint
It's a nice effect, but sort of irrelevant when you have tap to wake. Why use Glance Screen when a double-tap will show you the whole display, revealing Lollipop's lovely notification cards? Arguably Glance Screen might be more efficient on battery.
There are some other curious design elements we're less keen on. The SMS messages app, for example, never got the memo about skeuomorphic design's decline. You get the full mock notepad effect, which we really don't like.
We also wish the stock LG apps embraced material design better. Across Android we're seeing lots of consistency - like two-tone coloured headers (two shades of red at the top of Gmail, two blue at the top of Twitter) - but LG's apps jar with this, sticking to solid blocks that make it look more dated and feel less consistent across the Android apps.
Fortunately, as this is Android, you can change pretty much everything. If you want to install the Google Now Launcher, Messenger, Google Keyboard and Google Calendar, you can take the LG G Flex 2 closer to Android's Lollipop design and it all works very well indeed when you do.
Pocket-lint
That flexibility means that the LG G Flex 2's visual software woes aren't insurmountable. There's also a lot in the settings, so you can setup gestures, one-handed controls, as well as use dual window to view two apps at the same time - so you can browse the map while reading the web, for example.
As we said above, there are some unexplained moments of slowdown, that we think could be improved: that screenshot that suddenly takes ages to capture, or the button-based shortcut for launching the camera, which seems to take longer than just unlocking the phone and hitting the camera button being two examples.
Battery life
There's a 3,000mAh battery inside the LG G Flex 2 that isn't removable. It's a reasonable capacity, but perhaps a little on the low side for a device with this size of display, as battery life isn't LG's forte. The LG G3's biggest weakness is burning through its own 3,000mAh battery at a faster rate than it ought to.
On balance the LG G Flex 2 performs reasonably. On a light use day it will get you through to bedtime. Over a weekend, we found that we got 20-hours from it, so it's not terrible. On heavier days, however, the battery drains much faster; faster than we'd expected.
Pocket-lint
The average seems to be about 11-hours until you really need to charge it. If you're using the camera, taking a lot of calls, then that figure drops. There is a power saving mode, but it only kicks in when the phone is reaching the end of charge life, rather than the sort of granular power saving approach that Sony Xperia handsets offer. On a device like this, we really think that more battery saving control would benefit the overall experience.
So it's a mixed battery life story. We've found the LG G Flex 2 to outlast the LG G3, but it depends very much on what you're going to be doing. Keep a charger handy to take advantage of this device's fast charging as this will see it leap back to full power quickly.
Great camera
The G Flex 2 picks up the G3's camera skills and that's a good thing. There's a 13-megapixel camera on the rear, with optical image stabilisation, and LG's speedy laser autofocus, that works well regardless of the lighting conditions. On the front there's a 2.1-megapixel camera.
Pocket-lint
The camera app is the same as that on the G3 too, offering easy access to the different settings, or the option to remove everything for a simple tap capture system. It doesn't appear to have the magic focus (refocus) feature of the G3 though.
We like how easy it is to get to HDR (high dynamic range) to balance shadow and highlights in an exposure, so you can toggle it on if the Auto HDR system deems itself not necessary. HDR can be useful, although the results often need a tweak to restore some contrast. Switching from front to rear cameras is as easy as a swipe across the display, in a similar way to HTC devices.
The rear camera is a good performer, giving excellent results in good light and good results as the light dips too. Things get a little softer as the light drops though; in dim conditions there's some mottling as LG processes the image noise away, but you still get passable results.
The rear camera also gives great Full HD video as well as 4K video for those wanting to embrace the future.
Pocket-lint
The front-facing camera, comparatively, is weak. It gives good enough selfies in good light, but it's pretty poor as the light drops and lacks detail compared to rivals. There's a makeup function that will smooth your face down, but that's probably best avoided if you want to look anything like normal.
There's also voice shutter, letting you yell "whiskey" at the camera to grab a shot - if only bars were so amenable. Other phrases are available too.
Overall, we like the G Flex 2's camera, but we still think the fast launch (a long press of the volume down button) should be much quicker - at present it takes about six seconds, which is too long.
READ: LG G4 review: Phone meets phablet
Verdict
Overall the LG G Flex 2 has plenty to offer, and not just because it's curved. There's lots of power and it performs well, even if we couldn't detect a huge real-world increase in performance over the last generation of Snapdragon hardware.
There are some software quirks we don't like and it feels like there could be some further refinement, although we'll have to take a closer look at a UK device to ensure that it wasn't the SK Telecom's additions causing the problems. Battery life could also be better.
However, there's a distinct improvement of format over the previous curved device, with microSD for storage, the camera as pulled from the LG G3, and a smaller scale to make it more convenient. We're perfectly happy with the format - aside from the grainy display quality, which isn't as refined as most regular, flat, displays - and actually like the experience of a curved display. It's easy to manage and slips into the pocket easily enough.
Although the G Flex 2 might not stand up against the inbound flagship refreshes, it's an interesting device, an improvement over the original, and certainly a talking point. It's less a gimmick, more a unique, powerful prospect for those seeking something a little different.
Writing by Chris Hall. Originally published on 25 February 2015.